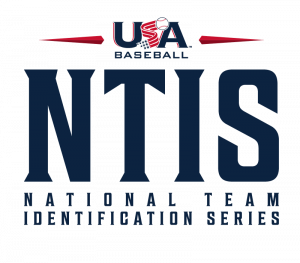 Firecracker Sports and USA Baseball/NTIS
Firecracker Sports is part of the USA Baseball/NTIS Task Force that recognizes and identifies prospective players to represent the United States National Team(s). The Task Force will report directly to USA Baseball and the NTIS through its Elevated Exposure Events as well as any Firecracker events where the Task Force is present.
If a player is identified as a player who could possibly represent Team USA, they will receive an invite to their regions "Regions Tryout". From there, they could have the opportunity to represent Team Northeast in the Champions Cup in Cary, NC at the National Training Complex (NTC).
All Players can expect the following from the Elevated Exposure Events.
Short parent meeting to explain the day and process.

Performance T-Shirt with #.

USA Baseball Task Force Scouts evaluating each player.

Each Player will receive a membership with a personal profile on the Firecracker Sports

PLAYERS HUB

. Existing members will have their information updated.

Each players evaluation/metrics will be turned in to the USA Baseball/NTIS office.

All metrics will be measured by TrackMan and/or Rapsodo.

Pro Style workout with USA Baseball Metrics.

Social Media Promotions during the event.
About the NTIS
The USA Baseball National Team Identification Series (NTIS) is the most comprehensive player identification program offered by USA Baseball. Players from across the country begin this identification process by participating in one of the many camps and tryouts at the local level and in one of six regions across the country. After camps and regional tryouts have been completed, each region will name 16 athletes from each of the 11U, 12U and 13U age groups and 18 athletes from each of the 14U, 15U and 16U age groups to an All-Region team. This All-Region team will then participate in the NTIS Champions Cup at the USA Baseball National Training Complex in Cary, North Carolina. The NTIS Champions Cup features six teams per age group and athletes will participate in workouts and a championship-style tournament while being evaluated by the USA Baseball Task Force composed of national team coaches and scouts. Following the Champions Cup, the USA Baseball Task Force could invite a player(s) to try out for their age groups National Team in the 12u, 15u, and 18u age divisions. In addition, USA Baseball will invite a minimum of six athletes from the 12U and 13U NTIS Champions Cup event to the following year's 13U/14U Athlete Development Program. USA Baseball follows the International Age Guidelines, see below.